English name: Sockeye Salmon

Scientific name: Oncorhynchus nerka
Origin: Copper River Alaska
Sockeye salmon (Oncorhynchus nerka), also called red salmon, kokanee salmon, or blueback salmon, is an anadromous species of salmon found in the Northern Pacific Ocean and rivers discharging into it. This species is a Pacific salmon that is primarily red in hue during spawning. They can grow up to 84 cm (2 ft 9 in) in length and weigh 2.3 to 7 kg (5–15 lb). Juveniles remain in freshwater until they are ready to migrate to the ocean, over distances of up to 1,600 km (1,000 mi). Their diet consists primarily of zooplankton. Sockeye salmon are semelparous, dying after they spawn. Some populations, referred to as kokanee, do not migrate to the ocean and live their entire lives in freshwater.
Sockeye salmon is the third-most common Pacific salmon species, after pink and chum salmon.Oncorhynchus comes from the Greek ?γκο? (onkos) meaning "barb", and ??γχο? (rhynchos) meaning "snout". Nerka is the Russian name for the anadromous form.The name "sockeye" is an anglicization of suk-kegh (sθ??q?y?), its name in Halkomelem, the language of the indigenous people along the lower reaches of the Fraser River (one of British Columbia's many native Coast Salish languages). Suk-kegh means "red fish".
The sockeye salmon is sometimes called red or blueback salmon, due to its color. Sockeye are blue tinged with silver in color while living in the ocean. When they return to spawning grounds, their bodies become red and their heads turn green. Sockeye can be anywhere from 60 to 84 cm (2 ft 0 in–2 ft 9 in) in length and weigh from 2.3 to 7 kg (5–15 lb). Two distinguishing features are their long, serrated gill rakers that range from 30 to 40 in number, and their lack of a spot on their tail or back.
Sockeye salmon have long been important in the diet and culture of the Coast Salish people of British Columbia.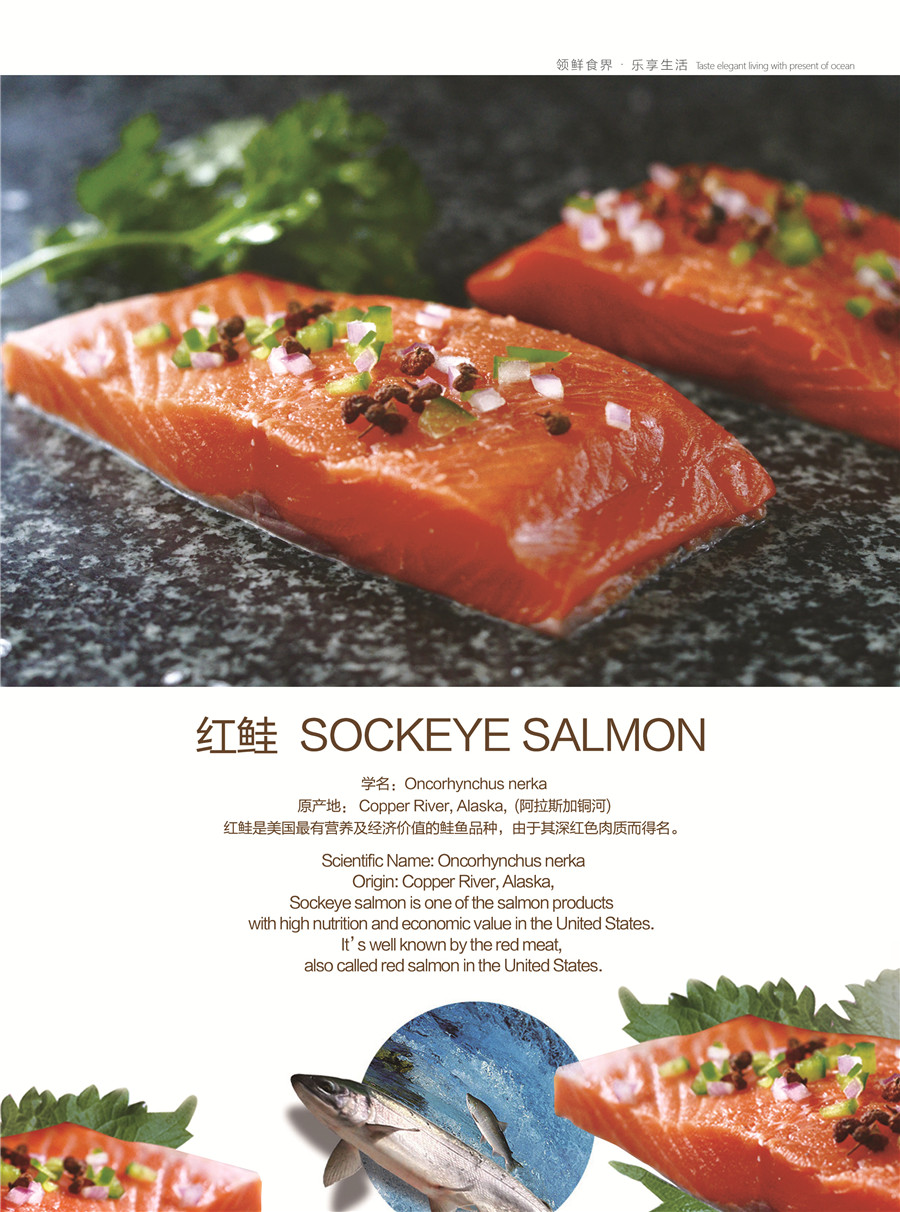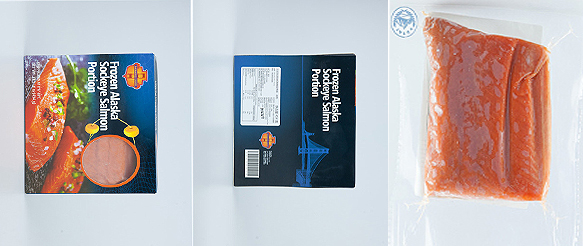 Fish block packaging